Posted on 28. May, 2014 by DWAMagpie in News
So where were we? Oh yeah. Emily Carroll had just received the Pigskin Peters award for experimental or avant-garde comics! Huzzah Emily!
Next up was the Doug Wright Spotlight Award (aka "The Nipper") which is handed out to the cartoonist deemed most worthy of wider recognition. This was a hotly contested category this year which included some tricky names to pronounce (I'm looking at you McFadzean!). So, Scott T petitioned the audience for somebody to take the reins and tintruce each of the five nominated cartoonists. Luckily, actor/writer/director/two-time DWA host Don McKellar was in attendance and heeded his friends call.
Lots of laughs ensued, with Don even removing a false tooth to aid in his concise pronunciation. You gotta love a performer who's willing to make himself look goofy to get a yuck.
Speaking of looking goofy, Don you have to get somebody to change your IMDB.com photo of you! Each year we link to this page and I expect this unflattering/menacing photo to be replaced by one of your flashy shots from the red carpet at Cannes, The Oscars or The Tonys. But, nope. There it is. Again.
So, after Don eloquently read out the summaries of the Spotlight Award nominees he, duh, announced the winner….which was
Steven Gilbert
for his self-published return to comics
The Journal of the Main Street Secret Lodge
. The beautifully wrought black-and-white book marks a return to form for Steven following a 15-year self-imposed absence (he exited comics-making 15 years ago to open up
a comic shop
in his hometown of Newmarket, Ontario).
True story: Steven was so off-the-comics-grid that I had to call him (on a telephone!) to tell him the news about his DWA nomination. He was so bowled over that I wish I had recorded the conversation for posterity. He told me that he was spurred to pick up the pencil again after his name turned up on an article on the now-defunct Comics Comics blog that posed the question "Whatever happened to these 90s cartoonists?"
You see, Steven used to be a regular on the 1990s alt-comics scene thanks to his ongoing series Colville. When he saw his name pop up on this long-lost cartoonists list Steven said he instantly knew he had to start comics-making again. So, the next day he got up and started what would become The Journal of the Main Street Secret Lodge. Welcome back Mr. Gilbert! And it's not just us who are crushing on this comic. Alt-comics poster boys Sammy Harkham and Frank Santoro have both fallen for its weird, violent charms. (Steven, you need to email Frank ASAP!) But finish off Colville first, okay?
Next up was the Canadian Cartoonists Hall of Fame, aka The Giants of the North. This year we were inducting the cartoonists who worked on "The Canadian Whites", a name given to black-and-white comics produced between 1941 and 1946 that contained a host of original (and iconic) Canadian characters such as Johnny Canuck, Canada Jack and Nelvana of the Northern Lights (which recently received a complete reprinting by CGA Comics).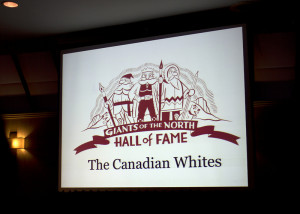 These characters were created more than 100 writers and cartoonists but only four remain: Murray Karn, Mel Crawford, Jack Tremblay and Gerry Lazare. This year we awarded Giants of the North medals to Karn, Crawford, Tremblay and Lazare on behalf of every Canadian Whites cartoonist. To help us out we asked Michael Hirsch, one of the writers behind the foundational 1971 book The Great Canadian Comic Books, which explored the history of these unique Second World War comics.
Then the time came for what I considered the best part of the evening, as Jack Tremblay and Gerry Lazare received their GotN medals and certificates from Seth. Heeding the dictum of Age before Beauty, Jack addressed the crowd first — thanking everyone for thinking of him and recalling his teenage years drawing comics (he couldn't convince his friends that he was the Jack Tremblay who was drawing the comics they were reading!)
Then Gerry Lazare talked about the importance of being a creative person, and implored the crowd to "draw every day" like he has been doing for seven decades.
Finally, in honour of Adrian Dingle, who wrote and drew Nelvana which was being launched at the ceremony, we welcomed one if his sons, Chris Dingle, who accepted the honour on behalf of his father, who died in 1974.
It doesn't happen often at the DWAs (Canadian cartoonists being a reserved bunch) but once Chris finished the crowd got on their feet for a standing ovation — which really meant something in this context I think.
After we'd all had a chance to dry our eyes, it was time for the last trophy of the night: The 2014 Best Book award.
This is always a hotly contested category, and this year was no different with five very fine cartoonists vying for the trophy. But there can only be one, and this year it was Michel Rabagliati for Paul Joins The Scouts, the latest volume in his semi-autobiographical series based in Quebec. You can;t really tell from these photos, but I handed Michel his trophy (his third!) and he was totally surprised.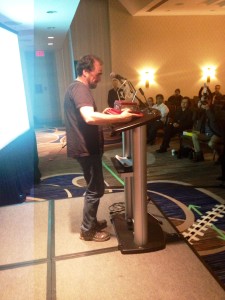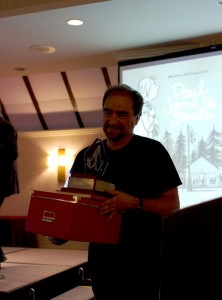 Before we wrapped up, we welcomed Hope Nicholson and Rachel Richey to the stage to say a few words about their just released Nelvana of the Northern Lights book which collects all the stories of perhaps the most famous comic character to come out of the Canadian Whites era.
And that was all she wrote. Almost. We forgot to ask Jesse Brown, one of our jury members, to deliver his appreciation of the Best Book winner. So, here it is:
Paul Joins the Scouts is pure pleasure. Michel Rabagliati's lyrical and elegant line whisks us back to Montreal of 1969, to an overcrowded family apartment, to the FLQ crisis, to the end of a childhood. With just a few deft brushstrokes, we know Paul, we know his family, his friends, we know his time and place. Only a cartoonist this good can make time travel look this easy. Don't be fooled. Rabagliati has crafted a thoughtful and complete work of narrative, sweet but never sappy, the product of expert labour the reader never feels but always enjoys. And that is why Paul Joins the Scouts was chosen by this year's jury, from all the deserving nominees, as the winner of this year's Doug Wright Award.
There — now i feel some closure.
Thanks to everyone who came out to help us celebrate 10 years of Canadian comics! We'll see you again next year!
(A special thanks must go out to Chris Anthony Diaz who stepped up as the official DWA photog this year. 90% of the photos I used here are from his skillful hand, so many thanks to Chris!)