Posted on 11. Apr, 2006 by DWAMagpie in Uncategorized
The organizers of The Doug Wright Awards for Canadian Cartooning are pleased to announce the auction of a one-of-a-kind piece of original art by Canadian designer and cartoonist Seth to help raise funds for the 2006 edition of the awards.
Considered one of the great cartoonists of his generation, Seth agreed to lend his distinctive style to the superhero genre as a special favour to the 2nd Annual Wright Awards. The result is a surprising re-interpretation of one of the comic world's most endearing superhero teams: The X-Men.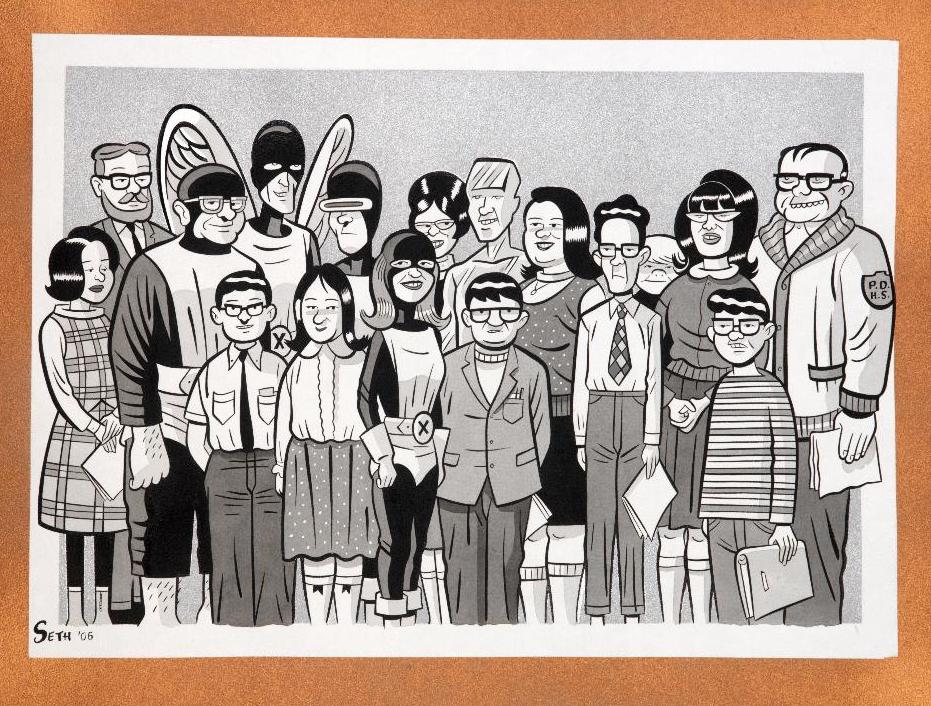 The Doug Wright Awards were established in 2005 to spotlight the wide array of talented cartoonists working across Canada. The pre-eminent awards recognizing the art of graphic novels and comics, The Wrights are named in honour of Doug Wright (1917-1983) whose humourous strip Doug Wright's Family graced newspapers and magazines across Canada for nearly 35 years.

Though Seth is one of the most prominent Canadian cartoonists on the international scene, he has never professionally drawn superhero comics or characters. Despite this, he still harbours nostalgia for the characters of his youth, and they occasionally make appearances in his sketchbooks.
Seth's striking 16″ x 22″ artwork, which depicts the original 1960's version of the superhero team, is sure to be a sought-after item by art collectors and comic book connoisseurs alike. Seth originals of this calibre, with this level of collector appeal are almost never offered for sale.
Seth's distinctive and instantly recognizable style has appeared in the pages of The Washington Post, the National Post, The New York Times, and was recently featured on the cover of the March 20th issue of The New Yorker. Seth's artwork was the subject of an exhibition at the Art Gallery of Ontario in 2005 and his books, It's a Good Life If You Don't Weaken, Clyde Fans: Book One, Bannock, Beans & Black Tea, and Wimbledon Green, have all been national bestsellers.
The first-ever Doug Wright Awards Fundraising Auction will go live on the online auction site eBay on April 17, 2006. All proceeds will benefit The Wright Awards, which will be handed out in the Fall of 2006.