Posted on 10. May, 2015 by DWAMagpie in ceremony, News
May 10, 2015, Toronto, ON — The best and brightest of Canadian comics and graphic novels were honoured in Toronto last night at the 2015 Doug Wright Awards for Canadian Cartooning.
A feature event of the Toronto Comics Arts Festival (TCAF), the 11th annual Wright Awards were handed out in a gala ceremony at the ballroom of the Marriott Bloor Yorkville Hotel. The evening featured special appearances by Don McKellar, David Collier, Lynda Barry, R. Sikoryak, and Seth and boasted an audience that was a Who's Who of the Canadian cartooning scene, including Chester Brown, Michael DeForge, Nina Bunjevac, Joe Ollmann, among others.
The winner of the 2015 Doug Wright Award for Best Book is:
Fatherland by Nina Bunjevac (Jonathan Cape/Random House)
The winner of the 2015 Doug Wright Spotlight Award for is:
Meags Fitzgerald, for Photobooth: A Biography (Conundrum Press)
And the winner of the 2015 Pigskin Peters Award is:
"Swinespritzen" by Connor Willumsen
The evening also saw long-time London Free Press editorial cartoonist Merle "Ting" Tingley inducted into the Canadian Cartoonist Hall of Fame, aka "Giants of the North". The 93-year-old cartoonist has won national and international awards for his art and is regarded by many as the dean of Canadian newspaper cartoonists. Ting's whimsical and distinctive cartoons about politics and society ran in the southern Ontario Free Press from 1948 to 1986 and were syndicated across Canada in more than 60 newspapers.
Tingley accepted the honour in a pre-taped segment that featured fellow cartoonist Seth.
The winners were decided by a jury that included Fiona Smyth, Zach Worton, and Conan Tobias.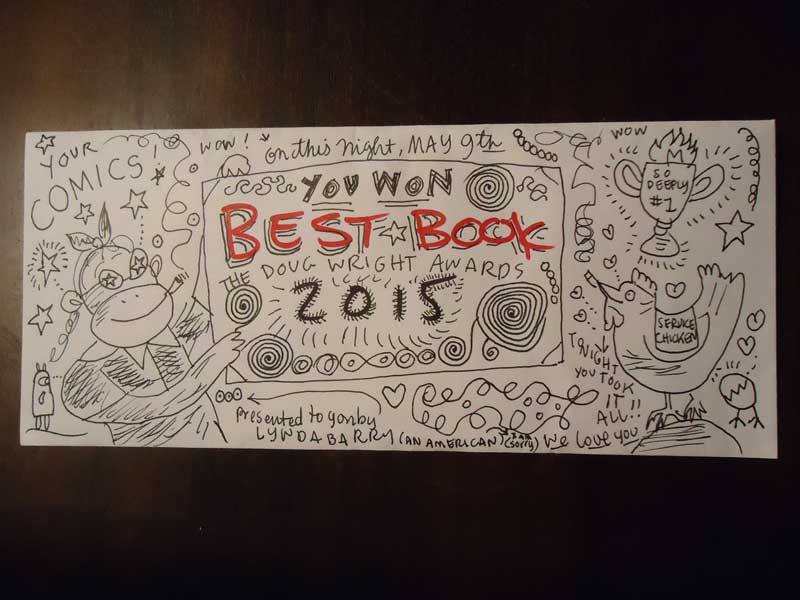 The Doug Wright Awards are a non-profit organization formed in 2004 to honour the lasting legacy of the late, great Canadian cartoonist Doug Wright (1917 – 1983), whose strip Doug Wright's Family ran in newspapers in Canada and around the world from the late 1940s to the early 1980s.  Founded in 2004, the annual awards recognize the best and brightest in English-language comics and graphic novels published in the previous calendar year (including first translated editions).
MEDIA: dougwrightawards@gmail.com