Posted on 06. Sep, 2007 by DWAMagpie in Uncategorized
The organizers of The Doug Wright Awards, Canada's premier comics and graphic novels awards, are happy to announce that three of the country's best-known cartoonists, Chester Brown, Seth and Dave Sim, have created one-of-a-kind original artwork to be auctioned off during their 2007 fundraising drive.
Each an internationally respected cartoonist, Chester Brown (Louis Riel: AComicStripBiography, Ed TheHappy Clown), Seth (Clyde Fans, Wimbledon Green ) and Dave Sim (Cerebus), have agreed to provide The Wrights with their interpretation on a unique theme: the monster comics of Jack"King" Kirby.
The revered artist behind such superhero comics as Captain America, the Fantastic Four, the Hulk, Silver Surfer and the X-Men, Kirby had an illustrious career that stretches back to the early days of comics. Long before he came up with his popular superhero creations, he was honing his skills on Marvel's "monster comics" of the 1950s and early 1960s — many of which have earned a cult status among cartoonists and comic fans.
These pre-superhero Kirby comics featured such unforgettable characters as Fin Fang Foom, Groot!, Goom, Gagoom (Son of Goom), and Korilla, among many others. As an homage to this era, each cartoonist has taken their pen to paper and given us a unique take on a Kirby Monster.
Each one-of-a-kind artwork will go up for auction on eBay beginning Monday October 8th 2007, with all of the proceeds going towards the non-profit Wright Awards.
Seth (from Guelph, Ontario) will help kick off the auction on Oct. 8 with his moody take on "Groot!" who first walked the earth in Tales to Astonish #13 (1960).
A few days later, on Oct. 11th , Kitchener, Ontario's Dave Sim will offer up "Nip'por" –his humourous interpretation of the work of both Kirby and Canadian cartoonist Doug Wright (who created the popular weekly strip Nipper.)
Rounding out the auction, on Monday, Oct 15th, will be Toronto's Chester Brown, who serves up his singular version of an action-packed Kirby Monster story that originally appeared in Tales to Astonish #34 (1963). Brown's recreation of page 5 from "A Monster At My Window" is a sight to behold.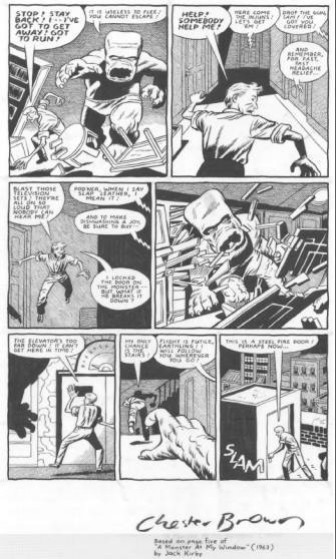 Each auction will be on eBay for seven days, and is open to bidding from fans from around the world.
The Doug Wright Awards for Canadian cartooning were established in May 2005 to recognise the best in Canadian cartooning talent. The annual event was named in honour of Doug Wright, the cartoonist behind one of the longest-running and best-loved comic strips Doug Wright's Family (or Nipper), who died in 1983 at the age of 65.