Posted on 12. May, 2013 by DWAMagpie in Uncategorized
Toronto, May 12, 2013 — The best in Canadian comics were honoured last night at the 9th annual Doug Wright Awards for Canadian comics. Hosted by actor and comedian Scott Thompson, the fun and unpredictable ceremony was attended by more than 300 people including some of North America's best cartoonists.
This year's recipients of the top honours were:
Best Book: The Song of Roland, by Michel Rabagliati
The Spotlight Award (aka "The Nipper"): Nina Bunjevac for Heartless
Pigskin Peters Award: Hamilton Illustrated, by David Collier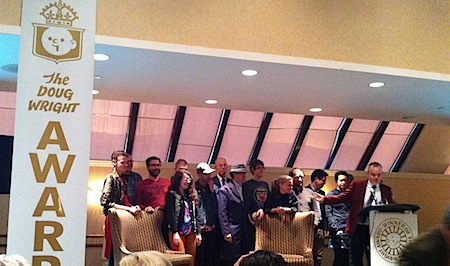 Held as a feature event of the 2013 Toronto Comic Arts Festival (TCAF), the evening also saw Albert Chartier inducted into The Giants of the North, the Canadian Cartoonists Hall of Fame.
The winners were decided by a jury that included: Joe Ollmann, Pascal Girard, Jonathan Goldstein, Natalia Yanchak and Julie Delporte.
– 30 –
About The Doug Wright Awards
The Doug Wright Awards are a non-profit organization formed in 2004 to honour the lasting legacy of the late, great Canadian cartoonist Doug Wright (1917 – 1983), whose strip Doug Wright's Family ran in newspapers in Canada and around the world from the late 1940s to the early 1980s.  Founded in 2004, the annual awards recognize the best and brightest in English-language comics and graphic novels published in the previous calendar year (including first translated editions).
MEDIA: Shireen Cuthbert: sfcuthbert@gmail.com